The second Big Data Hackathon for San Diego organized at the San Diego State University provided the platform and resources needed for students and collaborators from varied disciplines to come together and develop projects that will benefit the San Diego community. This event took place on February 18-26, 2017 and brought together collaborators from SDSU, UCSD, TAMU, Oregon State University and local high schools.
The theme for the hackathon this year was Public Health and at least 18 unique, exciting public health ideas for the San Diego community emerged in this event. Ideas ranged from individual health related concerns such as heart diseases, developmental disorders and mental issues to those targeting specific community needs such as access to safe drinking water, food banks and resources for the war veteran community in San Diego.
The Center for Human Dynamics in the Mobile Age (HDMA) at SDSU started this hackathon event in 2015 with the goal of getting together like-minded students and experts and developing technology-based solutions to important civic issues in California. Participants generate or use publicly accessible datasets on San Diego, California and the rest of the United States and build their solutions. Speaking about what the participants have to gain from such experiences, Dr. Ming-Hsiang Tsou, Professor in Geography at SDSU and Director of HDMA said that the "students learn how to analyze Public Health Data and how to use Data Analytic Tools/Methods to solve real world public health problems in a teamwork format."
First prize winners!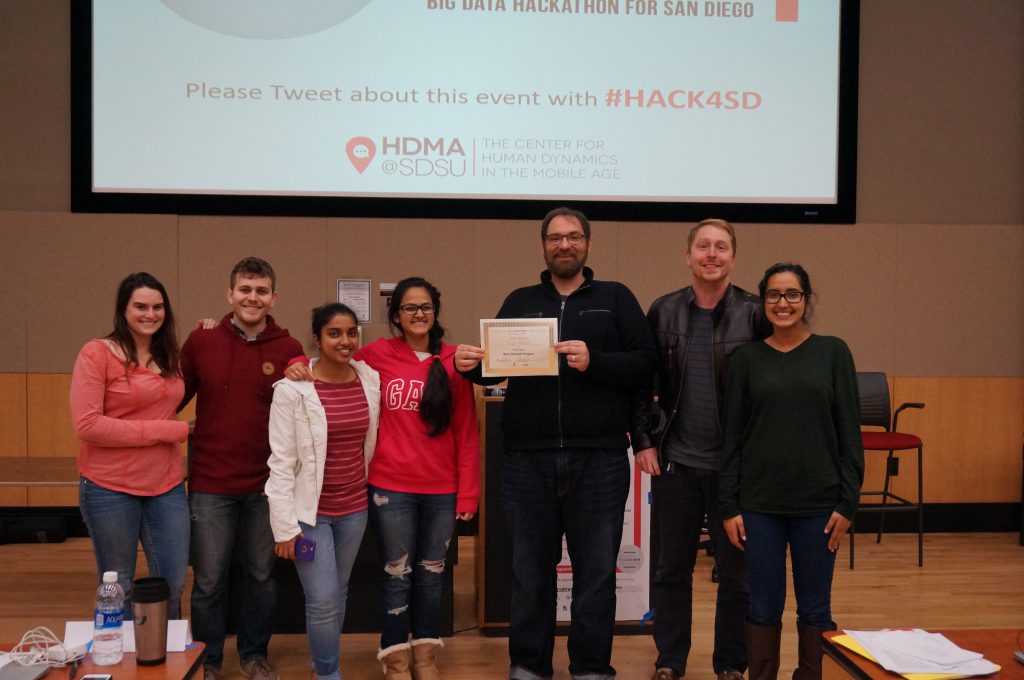 Click here to visit the hackaton website!